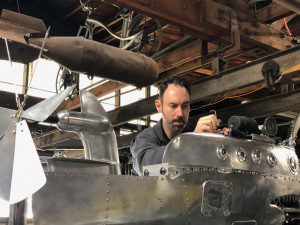 Nemo Gould was born to artist parents in 1975, in Minneapolis, Minnesota.  Named after the protagonist in Winsor McCay's comic strip "Little Nemo in Slumberland," Gould's work has fittingly evolved to reflect the images and mythology of comic books and science fiction.  Parallel to these influences was an irrepressible tendency towards collecting and dismantling anything with moving parts.
Gould earned his Bachelor of Fine Arts degree at the Kansas City Art Institute in 1998, and his Master of Fine Arts degree at U.C. Berkeley in 2000.  Once he was free of the constraints of contemporary art education he quickly threw himself into the pursuit of his childhood dreams. "My work appeals to the seven-year-old boy mind, because I still have one… I take silly very seriously."
In the ensuing years he has produced a prolific body of work that attempts to reconcile the innocent wonder of youth with the dull complexity of the adult experience.  "Most adults are dangerously lacking in wonder.  As we age and learn more of the answers to life's mysteries, I think we lose part of what keeps us alive.  When I am working, I am always trying to make things that can produce a child-like response from a jaded adult"
In 2007 Gould was selected as Artist in Residence at San Francisco Recycling and Disposal, Inc.'s Solid Waste Transfer and Recycling Center, an opportunity highly coveted among the Bay Area's found object artists, who are given free access to the tons of consumer detritus collected daily at the dump.  This was a dream come true for the artist who had already spent a lifetime collecting worthless things to transform, and helped to cement his reputation among the makers of his generation.
Gould's work has been featured frequently in national media and is shown in galleries and museums throughout the U.S. and abroad.